Eight at Eight hosts dinners and happy hours on weeknights and weekends and always has a hostess to greet the group. We make introductions, arrange the seating, buy the first round of drinks and make sure you get a separate check at the end of the evening.
Eight at Eight Works for Singles
We match members on:
  Age (and the ages you want to meet!)
  Professional Level
  Education Level
  Children
  Smoking
  Backgrounds/Hobbies
Held weekly throughout the city on both weeknights and weekends, each dinner is facilitated by a hostess. Her role includes greeting guests, buying the first round of drinks, introducing everyone, arranging the seating, and making sure you get a separate check at the end of the evening.
Our dinner packages are priced based on location. If you want to view upcoming dinner events and see dinner package pricing, please fill out our brief online profile.
After you fill out your profile, you can purchase dinner packages online with our secure credit card process. Take the first step toward meeting great singles and having enjoyable dinners today.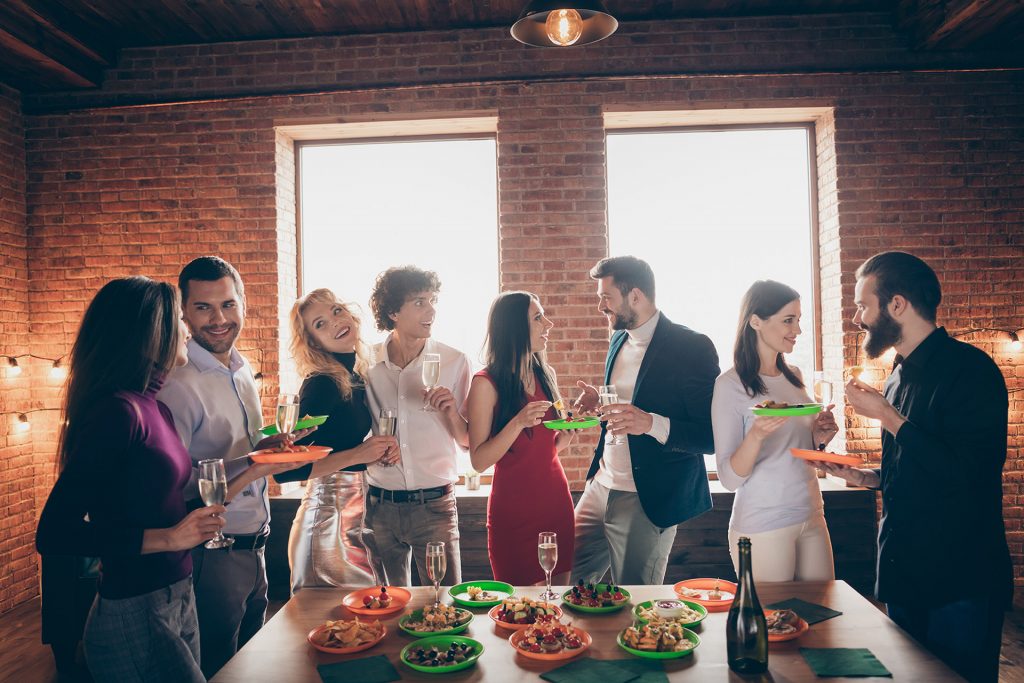 JOIN TODAY!
We match singles based on age, background, professional level, hobbies and interests. Throwing eight strangers together makes for some interesting stories. Each dinner party takes on a life of its own and net result is always a great evening out. We help jump start your dating life!
How much does it cost to be a member of Eight at Eight?
Eight at Eight sells dinners in packages and pricing covers one year of matching at dinner parties.  Also included are monthly attendance at our amazing group happy hours.  Once you're a member, you will have access to these large happy hours indefinitely, even after you expire.
To view upcoming dinner events and see dinner package pricing please fill out our brief profile on-line. Start meeting great singles and having enjoyable dinners today!
What does the membership cover?
Eight at Eight's fee covers operating costs associated with creating cohesive dinner parties and events. A hostess will attend each event to break the ice and buy Eight at Eight diners their first drink. At the dinner, diners only for pay for what they eat and drink. Separate checks will be provided for each diner.
How does Eight at Eight match people for dinner parties?
Based upon the members who have notified Eight at Eight of their availability for each planned dinner, we form the most cohesive dinner party of eight based on age range, shared interests and common backgrounds. Our sophisticated database ensures you are never matched for a table with people of the opposite gender whom you've already dined with.
How much are the meals?
Meals typically average $25 – $50, excluding alcohol purchases.
Do the restaurants deliver one check that we have to split?
Oh, we've been there and that can be stressful – which is not what we're about! We pre-arrange with our participating restaurants to provide an individual check for each member. Oftentimes gratuity is also included, so please be sure to check! We'll try to inform you as well.
When are the dinners and happy hours?
Eight at Eight holds dinners one night every week.  We also host a large group happy hour once a month.  Examples of our happy hours include wine tasting, rooftop bars, bowling nights, book clubs, and scavenger hunts.  All members and previous members are invited. 
How are groups put together?
We put together our dinner parties based on age and the interests you provide in your profile. Don't expect a completely homogenous group, however – we'll try to structure a diverse group with complementary interests that will give everyone something to discuss.
What should I wear?
Appropriate attire will vary by restaurant. We'll be sure to mention the restaurant's requirements when we confirm your dinner plans. As a general rule, "business casual" will be acceptable wherever your dinner is located. We suggest you wear something appropriate for a first date. Look your best – you're on a dinner date!
What happens if I meet someone at the dinner that I would like to meet again?
Members typically exchange names and phone numbers after the dinner. If you miss an opportunity, don't despair! Simply contact us at Eight at Eight and we'll contact your new friend. With their consent, we'll send you a phone number or email address. Under all other circumstances, our members personal information is strictly confidential. We will never release information on any of our members without explicit consent.
It is each members' sole responsibility to personally meet any individual and evaluate the member as to their suitability for any continued interaction. Although it is our hope to provide interesting and compatible people to meet, Eight at Eight makes no representations or warranties regarding character and background of its members.
How can I join?
That's the simple part! You can join right now by completing our Online Membership Application. Eight at Eight will then be in touch shortly with details and membership options.
Can I join with a friend?
It is Eight at Eight's policy not to seat friends together at a table, to ensure that all participants interact with each other on common ground.
I don't see myself as a skilled conversationalist. In fact I'm the quiet type. Will I feel awkward?
We sure hope not and we have designed a service that reduces that risk. Eight at Eight calls to confirm every member application, so we'll know you in advance. A representative from Eight at Eight then meets you at the restaurant, so you'll already have one friendly face waiting for you! The hostess will then introduce you to your seven dinner companions and share a round of drinks with everyone to "break the ice." By the time dinner commences, you'll be on your way to making seven new friendships!
What if I need to cancel a confirmed dinner reservation?
It can be very disappointing to be at a table designed for a group of 8 when one member cancels. If our office knows in advance, we can usually fill empty seats with other compatible members. Since we want the best possible experience for our members, we have implemented the policy below:
If you cancel between 25-72 hours in advance you will be considered canceling late and the dinner will be deducted from your count of available dinners. If you cancel after 9:00 a.m. the day of the event (or the prior Friday if dinner is hosted on a weekend) you will incur a $50 late cancellation fee in addition to the loss of a dinner from your count of available dinners. If you no-show at the event and do notify our office of your absence, you will incur a $75 no-show fee in addition to loss of a dinner from your count of available dinners.
Is Eight at Eight a dating service?
No. Eight at Eight's purpose is to introduce single professionals with similar interests who enjoy good food, good conversation and a good time. We consider ourselves a dinner club. Eight at Eight avoids the awkwardness associated with one on one dating services. Every month we plan a full schedule of dinners. Members meet others who like to do the same things they enjoy. Face-to-face dinner parties provide a stress-free foundation for starting relationships and letting members get to know each other through participating in fun events. Group activities ensure a non-threatening, no pressure environment. People can start conversations based on what they are doing. No need for the interview type atmosphere of other services. Conversation flows easier when you're doing something together.
What ages do you accept?
We target singles ages 21-70. Please realize that singles on either end of the spectrum would never be seated at the same table. Age is one of the most important factors when determining who to introduce you to.
Why wasn't I selected to join the event that I requested?
In order to form the most compatible group, we must seat members in groups of eight according to gender, availability, and other common factors. Eight at Eight would not want to seat you at an event that would not be enjoyable for you! We match dinner parties according to the interests that you indicated in your member profile. Although we attempt to meet everyone's needs, space is limited
Can I update my member profile?
To make changes to your profile, login using your e-mail address and password.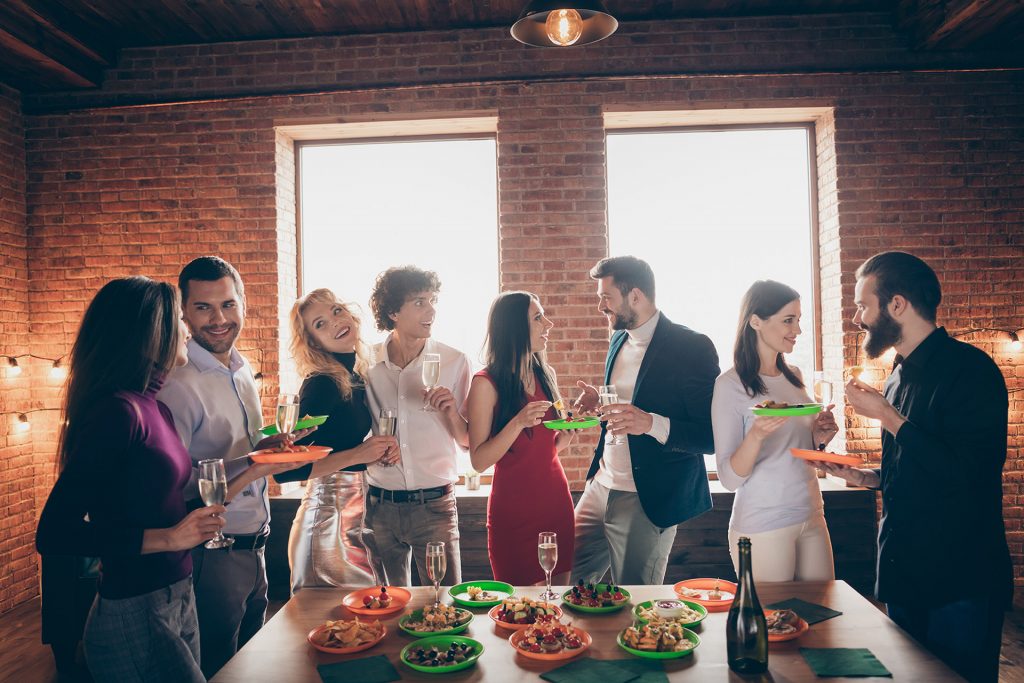 JOIN TODAY!
We match singles based on age, background, professional level, hobbies and interests. Throwing eight strangers together makes for some interesting stories. Each dinner party takes on a life of its own and net result is always a great evening out. We help jump start your dating life!
Do I still need to open doors for her?
Yes! It's polite and it doesn't cost you anything. Win some easy points and open those doors!
Is it okay if I ask her to meet me at the restaurant?
It's always nice to pick up your date, but it's definitely okay to meet her at the restaurant. It's the 21st century, so we know she can drive herself and you'll look good if you ask her what she prefers. After the first or second date, it's a good idea to start suggesting you pick her up, to shift the romance into a higher gear.
Does the guy have to pay for a date?
If it's a first date yes, yes, YES! Make it a real date and pay for the first date. If you want to go Dutch after that, discuss it with her, but one of the main differences between hanging out with a friend and going on a date is who pays. Some women will even offer to pay for their dinner if they are not interested. Once you two have been dating a while, then it's safe to expect her to start taking care of dinner. She may even pay for yours too!
Is it okay to ask her to come to my place after the date?
On a first date, don't ask her to come back to your place. Don't even do it on a second date. Your home is an intimate and private place for you. Be sure she is someone worth allowing into your intimate space. You're looking to get into a relationship, not just to hook up, right? Women, this advice is for you too!
Should I bring her flowers?
Some men may think flowers are cheesy, but they're not. Flowers are a kind and thoughtful gesture these days. Gone are the days women expect flowers. Give her a sweet surprise with a beautiful bouquet.